our family-run farm
in the heart of the Stubaital!
With us, you will find everything you want for your vacation: Amazing landscapes, exciting adventures, and warm hospitality.
As part of our family tradition, we have been working our fields here for generations, taking care of our animals, and welcoming our guests.
We look forward to giving you a closer impression of Tyrol and making your stay unforgettable!
The Schönherr family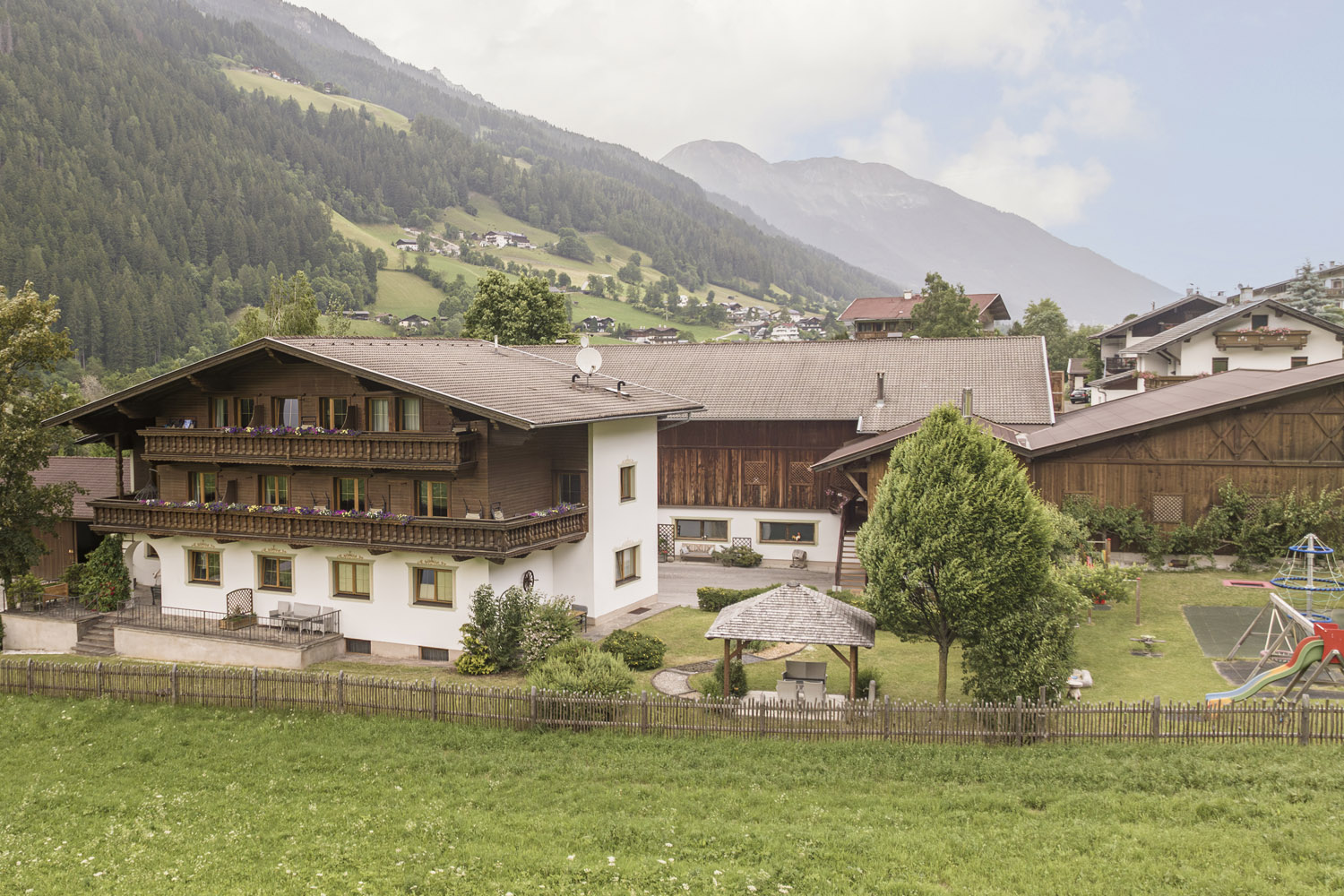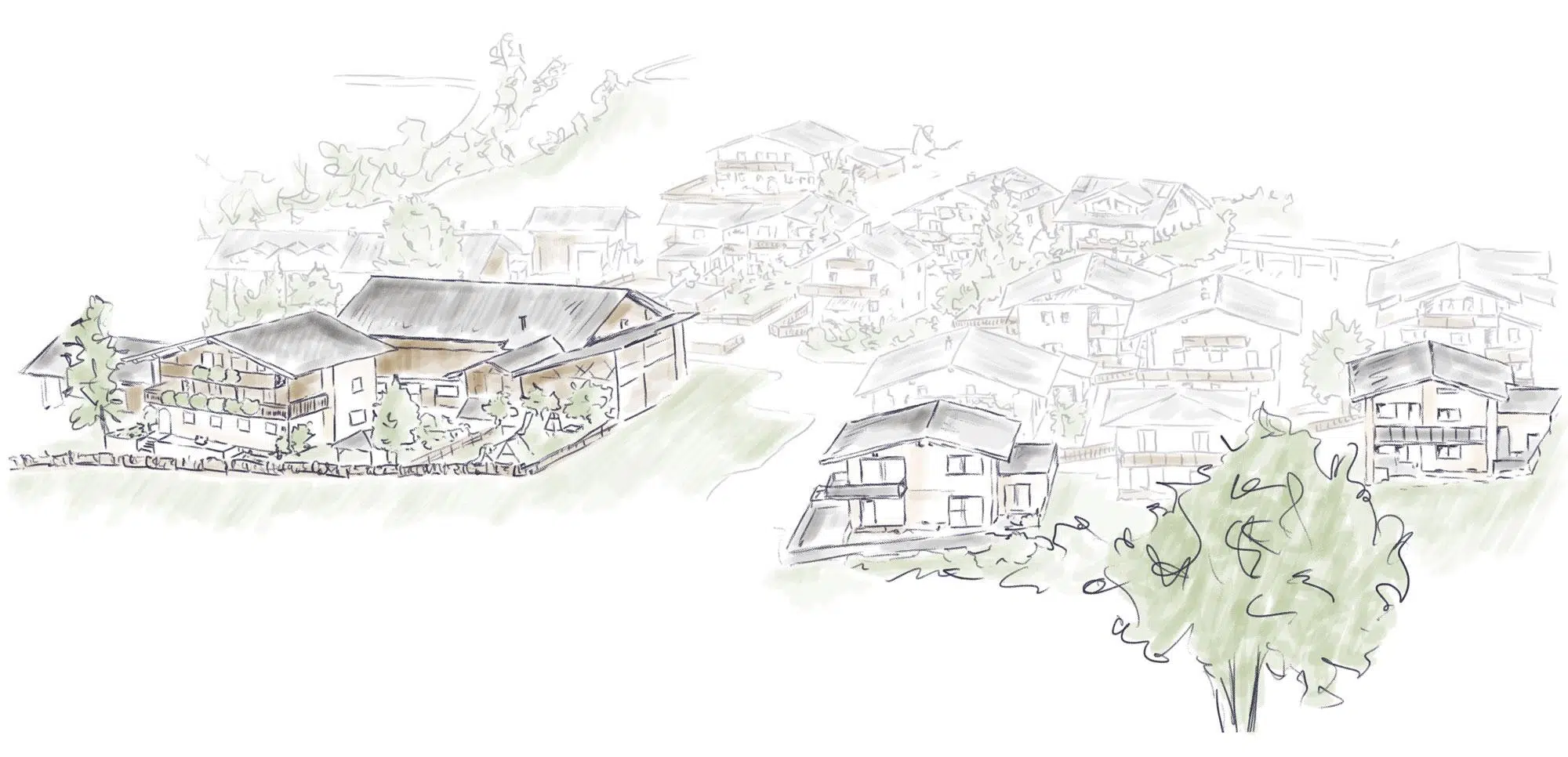 Family, hospitality, and tradition are values that are especially close to our hearts. In our family we focus on cohesiveness and mutual support, which is also reflected in the way we treat our guests.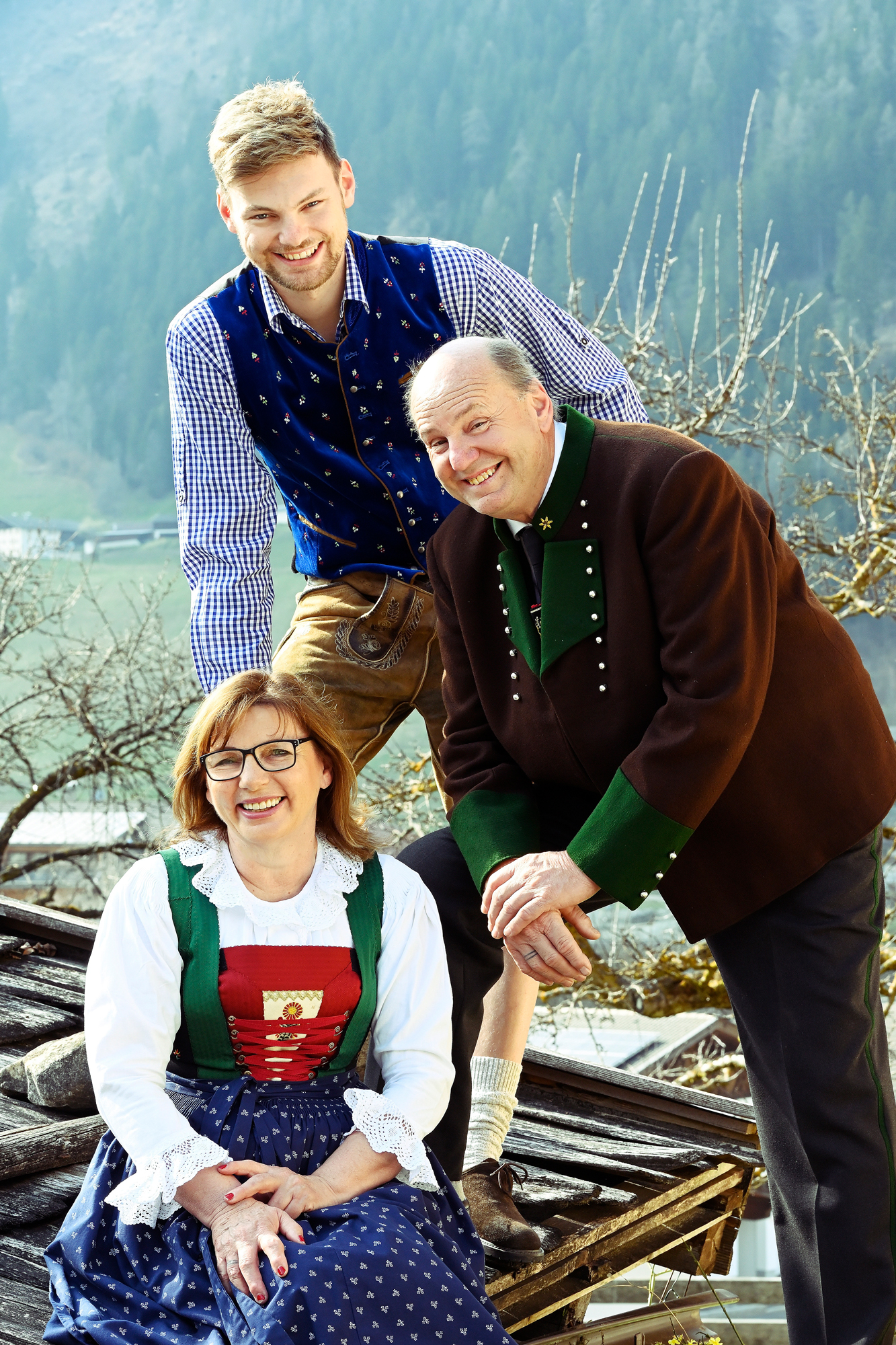 This is us
The Ausserwieserhof is a true ancestral family farm. It has been in the family since 1679 and has been passed down from generation to generation. It continues to be run by the same family.
Two of our daughters have fulfilled their dream of owning their own apartment house and Johannes will continue to run the Ausserwieserhof as farmer and host.
Be our guests and feel like a part of our family. We are looking forward to welcoming you.
In addition to the three family businesses in the valley, we also offer you a unique experience high up in the mountains. Our Kaser Chalet is nestled in the unique mountain panorama of the Oberbergtal and presents you with a view that will take your breath away.
Living in harmony with nature
Our apartments offer you a perfect home away from home, where you can feel completely at ease. Experience the unique combination of modern living comfort and rustic Tyrolean charm when you spend your vacation with us in the Stubaital.
To protect our nature and operate our apartments as sustainably as possible, we heat the building and our water with a wood chip heating system. The wood comes from our own forests. This is what we consider sustainable wood management.
One of our special highlights is our hay bed. Sleeping on real hay is like sleeping on a cloud – a truly extraordinary nature experience here at the Ausserwieserhof.
Our offer: 1 night in the hay bed
(for 2–6 people, during your stay at the Ausserwieserhof including a breakfast basket with home-made and regional products) €25/person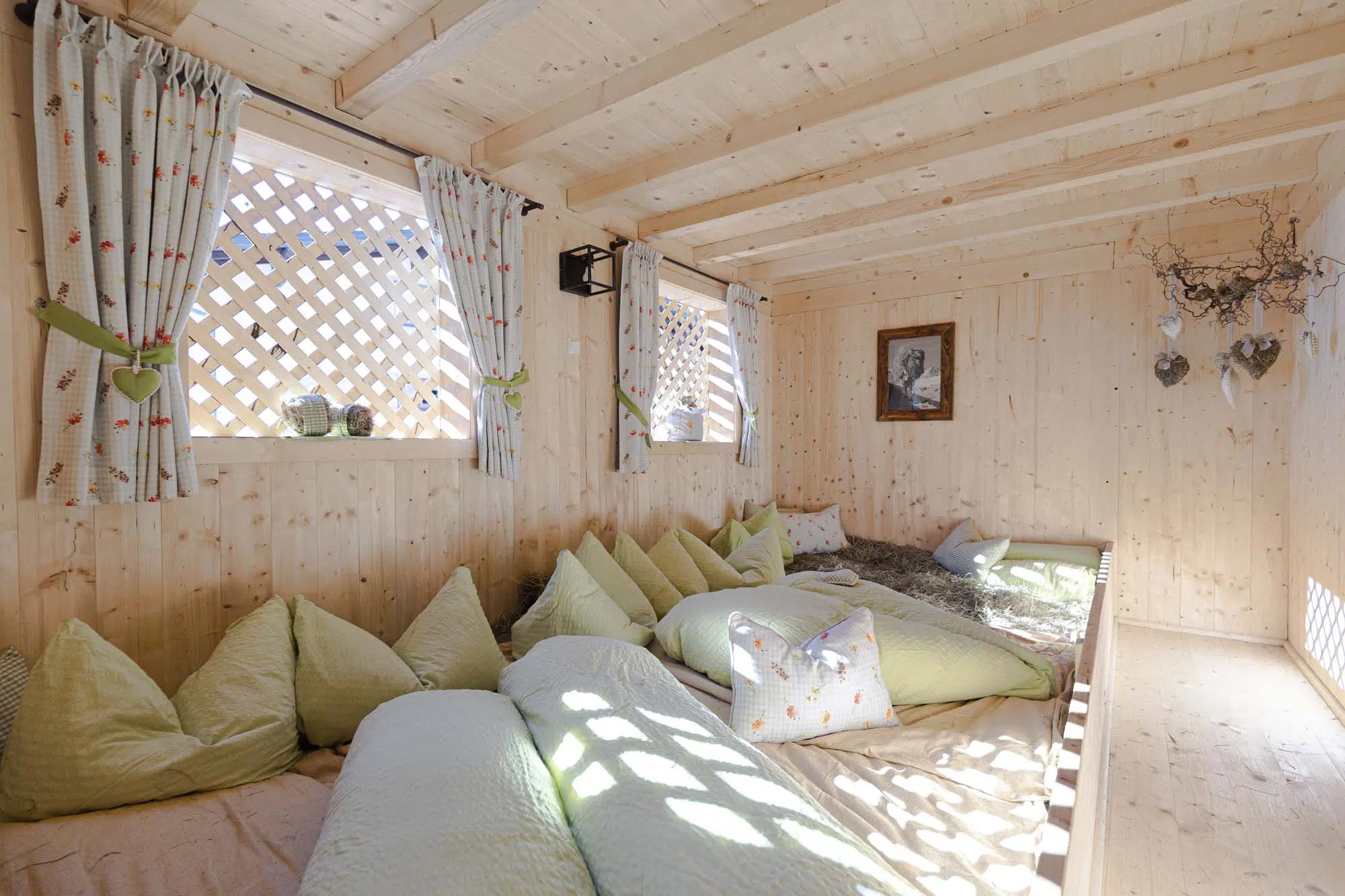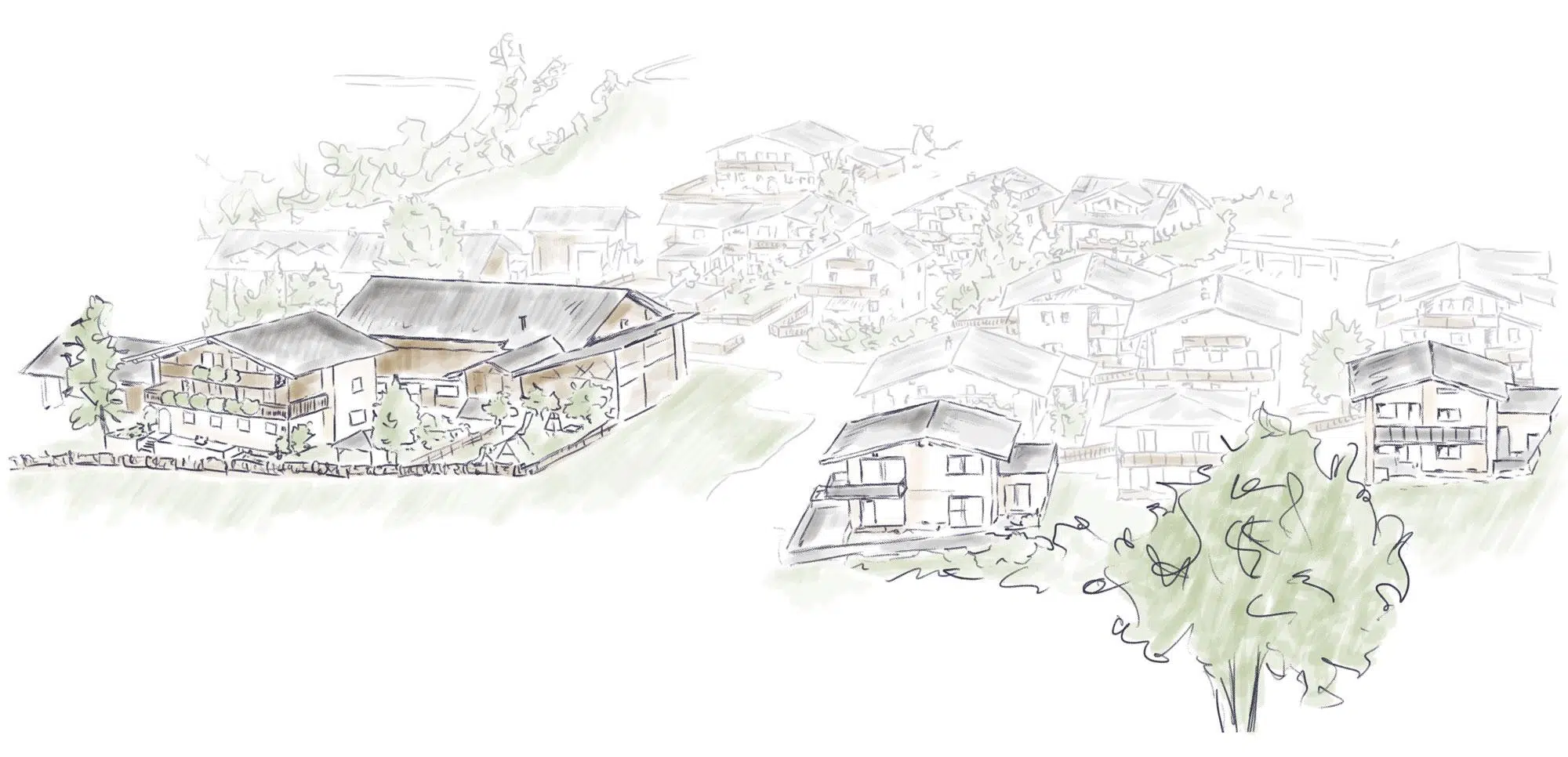 What distinguishes the Ausserwieserhof
Start your day with a delicious breakfast in your vacation home or in the middle of nature. Fresh milk from our own cows, delicious juices, yogurt produced in-house, and jams made with love are available to you in our self-service refrigerator.
In the wellness garden you can rest and relax, while the children let off steam on the playground.
Experience an unforgettable vacation with a perfect combination of relaxation, recreation, and adventure.
Experience the farm up close
On our farm you can experience what it's like to live and work in the countryside. Look over the shoulder of junior boss Johannes when he feeds the animals, milks the cows, and processes the milk into delicious dairy products. Old farmer Franz will take you behind the scenes and explain our daily routines to you on a farm tour.
Another special feature, especially for children, is our petting zoo. They can interact with animals such as rabbits, guinea pigs, and chickens.
Experience the Stubaital!
The Stubaital awaits you with a unique landscape, impressive mountain ranges, crystal-clear rivers, and breathtaking views. Nature starts right in front of our doorstep. In winter you can start cross-country skiing directly from here. The toboggan run starts and ends directly at the Ausserwieserhof, and you can reach the Elferlifte ski resort on foot in only 10 minutes.
In spring and summer, the Ausserwieserhof is also the perfect starting point for hiking or biking and it only takes a few minutes to walk to downtown Neustift, where you have access to several events.
Follow the Ausserwieserhof on social media so you
don't miss any more unique farm moments!